Roe deer
Hunting seasons

| | |
| --- | --- |
| Roe buck: | 15. April – 30. September |
| Doe, kid: | 01. October - last day of February |
Recommended hunting seasons
Buck:
15. April – 15. May and/or
15. July – 31. August (during the rut)
Doe, kid:
01. October – last day of February
Roe deer can be found throughout Hungary. The best bucks are located in the Great Hungarian Plain.
According to official estimates about 320.000 pieces live in our country. The annual bag is 80.000 pieces, whereof about 32.000 pieces are bucks.
The most favourite hunting method is the stalking with jeep, which can incorporate with normal stalking even waiting up on high seat. These methods can use in the spring or during the rut and substance control hunting of doe and kid. Nowadays hunters often use roe deer calling, when they imitate different sounds of doe or kid.
You can combine the summer buck hunting with pigeon and wild duck hunting too. Furthermore the spring buck hunting can combine with wild boar hunting in the evening.
The Hungarian roe buck trophies are among world leaders, which evidence the high quality of Hungarian roe deer. Great experience can be the doe/kid hunting in the winter time.
International credit (IP):
| | |
| --- | --- |
| Bronze: | 105,00 -­ 114,99 IP |
| Silver: | 115,00 -­ 129,99 IP |
| Gold: | 130,00 IP |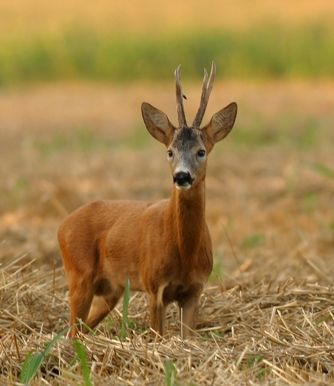 Some excellent roe buck trophies from Hungary
30 % of the first fifty buck trophies on the present world rang list are Hungarian trophies.
Martonvásár
1965
766 gr
228,68 IP
ex-world record
Földeák
2002
843 gr
207,80 IP
Napkor
2005
736 gr
205,92 IP
Martfű
2005
776 gr
222,92 IP
Napkor
2004
810 gr
214,65 IP
Árpádhalom
2002
682 gr
208,13 IP
Álmosd
2005
708 gr
170,32 IP