Fallow deer
Hunting seasons

| | |
| --- | --- |
| Shootable fallow buck: | 01. October -­ 30. November |
| Cull buck: | 01. October ­- last day of February |
| Fallow doe, picket's sister: | 01. October ­- 31. January |
| Fawn: | 01. October ­- last day of February |
Recommended hunting period
November -­ December
Rutting season: 01 October -­ 31 October
Fawn, calf: in winter period – in individual or driven hunt
The best fallow deer populations can be found in Gyulaj, Guth, Gyula and Lábod. These fields have continental climate and deciduous forests. Fallow deer like such forests, which have rich underwood, especially if they alternate with greens and agricultural areas.
According to official estimates about 25.000 pieces live in our country. The annual bag is 8.000 pieces, whereof about 1.800 pieces are bucks.
During the rut the most successful hunting methods for fallow buck are stalking, horse-cart hunting and waiting up on high seats. These methods can use and combine with sledge hunting in the winter time too. Fawn can shot in driven hunting as well. 60 % of the first fifty stag trophies on the present world rang list are Hungarian trophies.
International credit (IP):
| | |
| --- | --- |
| Bronze: | 160,00 -­ 169,99 IP |
| Silver: | 170,00 -­ 179,99 IP |
| Gold: | 180,00 IP – |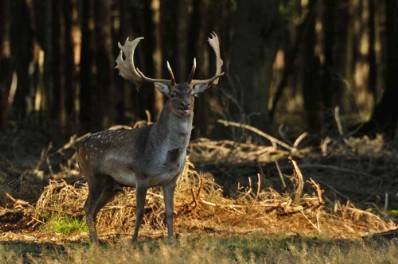 Some excellent trophy from Hungary
Guth
2002
5,43 kg
237.63 IP
present world-record
Guth
1991
6,40 kg
233,11 IP
ex-world record
Szakcs
2001
5,35 kg
223,19 IP
Budakeszi
2004
4,40 kg
220,21 IP
Újpetre
2002
4,91 kg
216,96 IP