Red deer
Hunting seasons

| | |
| --- | --- |
| Shootable stag: | 01 September ­- 31 October |
| Cull stag: | 01 September ­- 31 January |
| Hind: | 01 September -­ 31 January |
| Jinnock: | 01 May- 28. February |
| Calf: | 01 September -­ 30. April |
Recommended hunting seasons
| | |
| --- | --- |
| Stag: | 01 September – 30 September |
| Cull stag: | 01 September – 30 November |
| Hind, jinnock, calf: | in winter (individual or driven hunt) |
You can find red deer almost throughout Hungary. The best populations are located in the South and West Hungary. The medallist rate is significant among the shooted stags.
According to official estimates about 80.000 pieces live in our country. The annual bag is 30.000 pieces, whereof about 9.000 pieces are stags.
For stag hunting the best time is the rutting season. The rut usually begins at the first days of September and continues even mid-October. The two frequent hunting methods are the waiting up on high seats and stalking. Stag can be shot at stalking in a horse-drawn carriage too.
The hunting methods for hind, jinnock and calf are usually stalking, waiting up on high seats, stalking in a horse-drawn carriage and nowadays can be shot in driven hunting too.
The weight of trophies depends on the habitat of population. Over 10 kilograms the trophy is already capital and the hunter would take pride in the trophy.
International credit (IP):
| | |
| --- | --- |
| Bronze: | 170,00 -­ 189,99 IP |
| Silver: | 190,00 -­ 209,99 IP |
| Gold: | from 210,00 IP |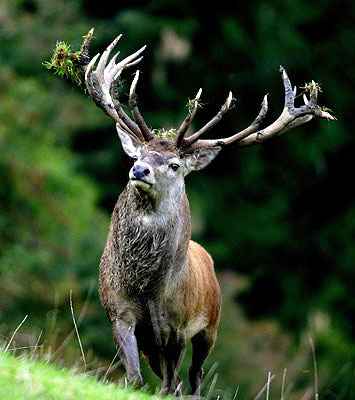 Some excellent trophies from Hungary
32 % of the first fifty stag trophies on the present world rang list are Hungarian trophies.
Karapancsa
1986
14,50 kg
271,00 IP
ex-world record
Pusztakovácsi
1984
14.00 kg
269,89 IP
ex-world record
Lenti
1972
12,45 kg
251,83 IP
ex-world record
Lenti
1970
13,40 kg
252,98 IP
ex-world record
Hahót
1985
16,40 kg
260,07 IP
Lábod
2001
16,81 kg
265,67 IP
Bóly
2008
14,87 kg
246,40 IP
Nagykanizsa
2009
12,26 kg
267,03 IP
Kerecseny
2000
13,98 kg
263,30 IP
Piliscsév
2001
13,00 kg
251,38 IP
Vörösalma
2002
14,05 kg
263,88 IP
Segesd
2007
14,12 kg
247,00 IP
Hajós
2007
14,30 kg
254,15 IP